Certified / Authorized Translation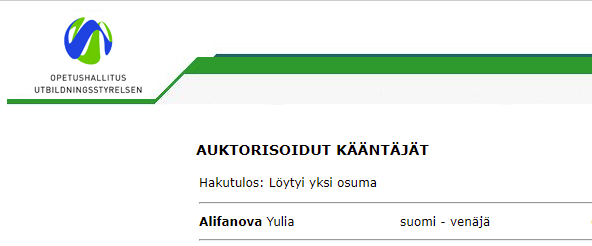 Certified / Authorized Translation
Most of the translations do not have or even need authorization/certification. Authorization/Certification is required only if a translated document is to be presented to Finnish or foreign authorities. Same applies to documents to which competent authorities (magistrates, town halls) have affixed apostilles as part of the legalization procedure required by a state which is party to the Hague Convention of 1961. Demand for an apostille is determined on a case-by-case basis, and you should always ask your authorities in advance if it is necessary in your particular case. Authorization/Certification of a document makes it legally valid.
Below are a few examples of documents that might need to be authorized/certified before they are presented to authorities in or outside Finland or for example insurance companies abroad in the language of the country in question:
Birth certificates

Vital records certificates

Marriage certificates

Death certificates

Diplomas, graduation certificates

Medical records, doctors' notes, bills for hospital treatment or health care

Rulings by KELA, Migri, Police, and other authorities

Wills, powers of attorney, and other notarial acts

Judgments and other legal documents
Not all translators that have been trained for the job or currently working in it are authorized/certified translators.
A translator is awarded authorization/certification by the Education Board only after the candidate has proved his(her) qualification and knowledge though the exam arranged by the Board annually in a number of Finnish towns.